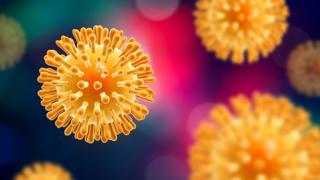 HIV diagnosings are continuing to fall in the UK as it meets UN targets on diagnosis, treatment and transmitting for the first time, according to a report from Public Health England.
It said there was no doubt prevention efforts to end the HIV epidemic were working.
New HIV diagnosis in the UK fell by 17% from 2016 to 2017, with spread among gay and bisexual humen declining.
HIV charities said real progress was being built in the fight against HIV.
Latest figures on HIV infections from PHE show that last year both England and the UK overall satisfied three important targets of 90% set by the Joint United Nations Programme on HIV/ Aids( UNAids ).
92% of persons living with HIV infection in the UK being diagnosed 98% of people diagnosed treat it 97% of people treat it, leaving them unable to pass on the infection
Image caption