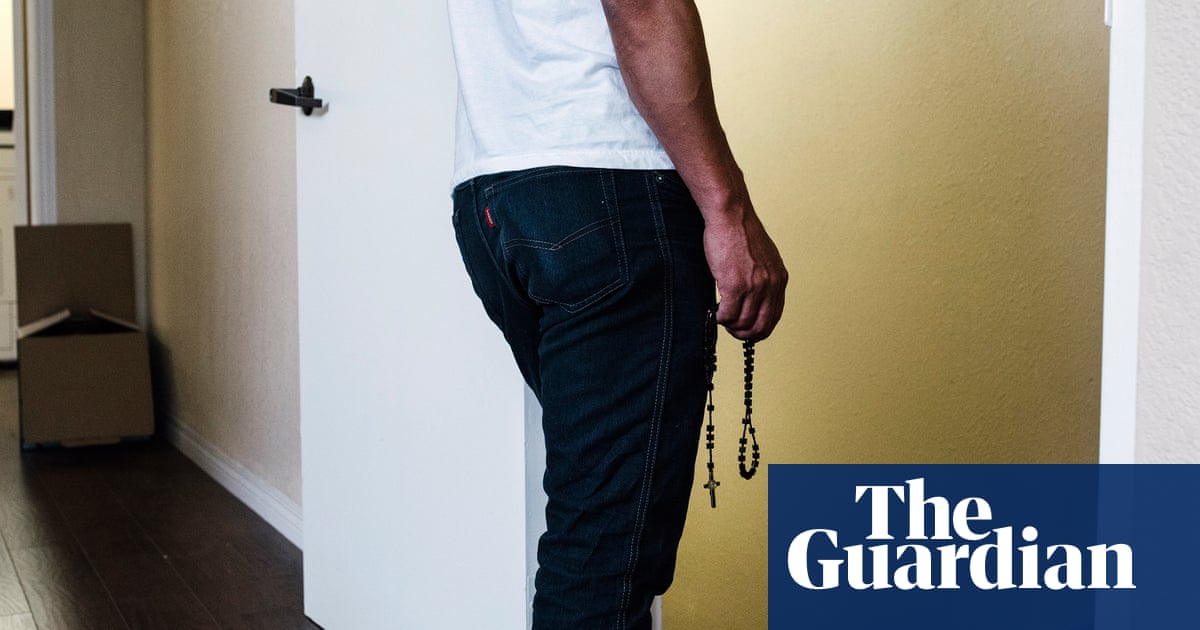 Some days, Rolando would bleed out of his eyes, ears and nose. Other days, he'd lie on the floor, dizzy or barely conscious.
But every time the jailed Guatemalan asylum seeker attempt help from a doctor, staff at his US immigration detention center offered the same treatment: ibuprofen.
The 27 -year-old migrant survived a gunshot wound to the head in Guatemala and was suffering from excruciating headaches and possible brain hemorrhaging when he presented himself at the San Ysidro port of entry earlier this year. US authorities responded by isolating him in solitary confinement and incarcerating him for months at the Otay Mesa detention center in San Diego, giving him sporadic access to medical staff and medicine, his records show.
" I feared I was going to die ," Rolando, who asked not to use his full name due tothreats against his life, told the Guardian." I supposed in this country, there is really good medical care … but I wasn't getting any therapy ."
Rolando constructed it out of Migration and Customs Enforcement( Ice) detention alive, but his combat isn't over. He's still opposing to get asylum, based on the physical torture and persecution he fled as an indigenous Guatemalan. Every step of his journey has collided with the Trump administration's aggressive assaults and expanding restrictions on migrants and refugees.
Now, the White House is moving to block Central Americans like Rolando from presenting their cases at the border, a move that experts concur will have devastating and fatal consequences.
" I came to the United State because I'd like to at least make it to 30 ," Rolando said.
An orphan who escaped demise:' I don't have anyone left '
When he fulfilled the Guardian on a recent morning, Rolando carried the charger for his ankle monitor, which asylum seekers awaiting hearings are frequently forced to wear. He's often so concerned running out of battery.
Seated inside the small legal services office of Al Otro Lado, above a pizza shopin San Diego, Rolando looked down and wove a bangle with his hands as he talked, a practice he developed inside detention to pass the time and distract from his health problems. His native Mayan language is Q'eqchi ', but he talks to his attorney in Spanish, which he was forced to speak in jail.
Rolando was born into chaos in 1992 in the Peten region of northern Guatemala. His father had been a member of the armed forces but resigned and became a supporter of the pro-indigenous movement. He was killed as a result, just after Rolando's birth, and his mother died soon after" from the trauma", he said.
He was an orphan at age one:" My brothers and sisters couldn't take care of me … and they gave me to neighbours ."
Rolando became homeless and later a frequent target of violence by the people who he believes killed his father. Police tortured him when he sought help. According to his asylum application, that included placing fingernails in his hand and foot and burning his arms with hot knives.
In 2016, while at a football game, assailants shot Rolando in the head and left him with a written demise menace that referenced his father's murder. He survived, was forced into hiding and was unable to get medical attention. He said he had to remove the bullet himself. Police later refused to help and assaulted him, according to his file.
" I don't have anyone left ," he said, adding that fleeing to the US was his only option:" Giving me an opportunity to be here is giving me an opportunity to stay alive ."
He escaped to Mexico and joined a caravan last year, eventually inducing it to Tijuana. Then the waiting began.
As part of a vast crackdown on migration, the border patrol under Trump has instituted a policy known as " metering", which limits the number of people who can apply for asylum every day. In Tijuana, this has led to a waitlist that has more than 10,000 people, with a few dozen allowed to cross daily, creating a wait time of approximately six to nine months, lawyers estimate.
Trump's" Remain in Mexico" policy has also resulted in nearly 50, 000 migrants from Central America being returned to Mexico while their cases move forward. That has translated to overcrowded shelters, tent encampments and a struggle to access medical and legal services.
It also leaves migrants like Rolando vulnerable to the same violence they were escaping in their respective countries. Rolando said he was beaten in Tijuana, suffering injuries to both his arms and forcing him to wear a cast.
In February, he was finally able to enter the US through the San Ysidro port of entry. In his initial processing, authorities took his injured limbs- and placed him in handcuffs.
In detention, in agony and without treatment
Once he was in custody, Rolando's health problems worsened. More than 150 pages of Ice's medical records paint a picture of repeated health crisis and his persistent struggle to get help.
Rolando regularly was bleeding from his eyes, ears and nose- the cause of which was unclear to physicians but might have been related to his gunshot wound. Rolando said he was bleeding soon after he was taken into custody and that as a result, he was placed in isolation:" They said,' We don't know what's wrong with you .'"
It's unclear how many days he spent in solitary, but he said he had difficulty getting any therapy while isolated, and that he would spend all day in a small cell with no window to the outside. Staff would pass him snacks through a small slat.
" I didn't even know what was night and what was day ," he recalled." I was sick already, but I was starting to get worse … Nobody was coming to see me ."
Once in the general population of Otay Mesa, Rolando continued to suffer periodic bleeding, and at times his head pain was so severe, he would lose consciousness, or he would lie on the ground so that he would not injure himself if he passed out.