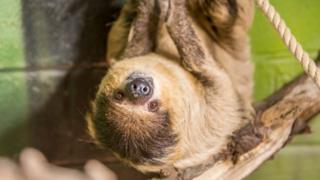 A retirement home for sloths from zoos has been put in in Pembrokeshire.
Instead of taking on young breeding pairs, Folly Farm has induced the decision to home older sloths which have retired from other zoos.
Folly Farm is now home to Tuppee, 24 and Lightcap, 34, which is now the fifth oldest sloth in any European zoo.
Zoo curator Tim Morphew said: "We're helping conservation efforts at other zoos by freeing up enclosings for younger, breeding pairs."
Two-toed sloths have a lifespan of around 20 years in the wild but have been known to live up to 50 in captivity. They reach an average weight of 8kg.