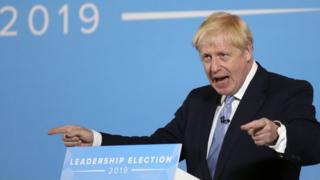 Boris Johnson has promised to review so-called "sin taxes" to see if they unfairly target those on lower incomes.
The Tory leadership contender wants to examine whether levies on foods high in salt, fat and sugar are effective, and has vowed not to introduce any new ones until the review is complete.
Both leadership nominees were asked at a hustings about a proposed new taxation on milkshakes.
It comes as a charity says millions are at risk of cancer due to their weight.
According to Cancer Research UK, obesity now causes more cases of four common cancers in the UK than smoking.
Mr Johnson questioned whether levying these types of taxes disproportionately affected the disadvantaged, and suggested that Brexit would allow the UK to examine its tax policy.
Foreign Secretary Jeremy Hunt said he would rather target manufacturers than taxpayers when it came to less healthy products.
Mr Johnson and Mr Hunt are vying to be the next leader of their party and the next UK prime minister, and have been appearing in a number of events across the UK.
The Conservative Party's 160,000 members will begin voting for their favor nominee next week and Theresa May's successor is expected to be announced on 23 July.
Tory leadership: Compare the candidates The people who will choose the UK's next prime minister Soft drink sugar tax starts, but will it work ?