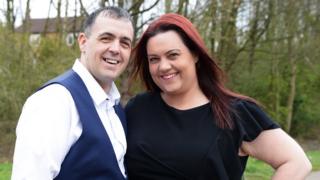 Celena gained five stone( 32 kg) during the first three years of her relationship with her partner Pete. Here she describes how they broke the cycle of unhealthy eating by spending 10 weeks apart.
A year ago I refused to look at myself in a full-length mirror. I was a sizing 26 and my big belly repulsed me. I lived in leggings and baggy tunic tops that I bought at plus-size shops to try to hide my shape.
But if you had known me then you wouldn't have guessed. I always tried to put on a happy front even though I was unhappy with myself. Not even my partner Pete knew just how bad I felt. But then Pete was one of the reasons I weighed 22 stone( 140 kg ).
Pete and I fulfilled three years ago. I was already overweight but during our relationship I put on a further five stone. He would do most of the cooking and constructed huge portions, it was how he showed me he cared. If I asked him to bring back a chocolate bar he would bring back a selection of five.