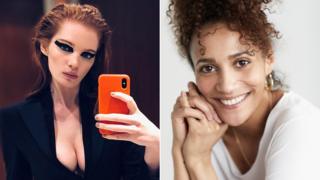 Defining what makes a good model is more difficult than it sounds.
"I don't like to think that we're looking for one thing, " says Robyn Bright, a scout for the Models 1 agency, which is celebrating its 50 th birthday this year.
"If you find somebody who really simply stands out, when you see it, it's quite amazing.
"As a scout, it's always the quiet one at the back of the really loud group of girls who are all caked in make-up, who's probably not worked out how to do her face yet, and is really inconspicuous – it's always that one that you see."
Bright is speaking from experience.
Scouted herself outside Topshop on Oxford Street virtually 20 years ago, she constructed a successful modelling career before moving behind the camera to help find the next generation of models.
NB the pictures in this article are all of models currently signed off by Models 1.