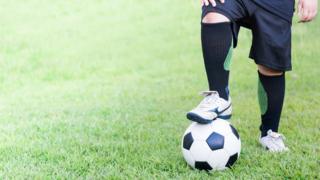 "A blessing that landed at my feet" – that's how Andrew describes the football coaching course he enrolled in during his time at Brixton Prison.
The 45 -year-old, from north London – whose surname we've chosen not to expose – was sentenced to five years in jail in 2015 for drug dealing.
Andrew says he was reaching crisis point as his release date neared – until Fulham's course came along.
"I love football, I play it all the time. At my age what a wonderful opportunity, because I couldn't think of a undertaking I could see myself fitting into at this time of my life, " he says.
"I'm not really that good at anything. I've got no qualifications. I couldn't consider myself sitting in an office. This course was brilliant."