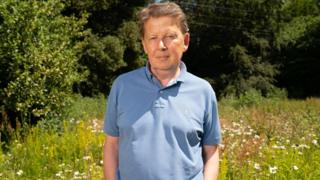 Broadcaster Bill Turnbull says there should be a "proper conversation" in the UK about the use of cannabis for medicinal purposes.
The former BBC Breakfast presenter, who was diagnosed with prostate cancer in 2017, discusses the issue in a new Channel 4 documentary.
"It's legal, to a greater or lesser extent, for medicinal purposes in more than 20 countries, " he said.
"Intelligent, advanced countries. And I think we should be one of them."
The Classic FM presenter is seen trying cannabis oil in Bill Turnbull: Staying Alive, which follows the presenter as he adjusts to life after his cancer diagnosis.
Producing cannabis oil in the UK can result in a prison sentence of up to 14 years, even if it is for medicinal intents.
However, cannabis can now be legally prescribed to some patients in the UK, although this is carefully monitored and governed.
The therapies can be prescribed only by expert physicians in a limited number of circumstances, where other medications have failed. They can be prescribed for children with rare, severe forms of epilepsy, and adults with vomiting or nausea caused by chemotherapy, or with muscle stiffness caused by multiple sclerosis.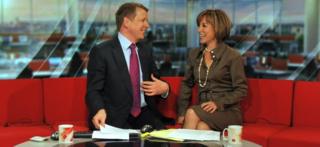 The documentary insures Turnbull try several techniques, including alter his diet, to fight the cancer and ease his pain. The cannabis oil he samples is constructed for him illegally by an activist who creates it for free for those he considers to be in need.
Turnbull acknowledges he is transgressing the law as he tries the oil. But, he says, dedicated his prognosis, he's willing to "break the rules, just this once".
"I do think we need to have a proper conversation in this country about the use of cannabis for medicinal purposes, " Turnbull told journalists ahead of the film's broadcast next week.
'I smuggled cannabis oil to help my son' The woman who makes cannabis oil 'to help people' Image caption Some MPs predict the UK will fully legalise cannabis use within 10 years Image caption Turnbull left BBC Breakfast in 2016 and now presents a weekend show on Classic FM Bill Turnbull: Chemo treatment 'unbearable' 'For heaven's sake, get tested' Image caption Turnbull with other former Breakfast presenters in 2008, on the show's 25 th birthday